Uptown New York continues to glisten with the history of the African and Black American experience. Befittingly, the haven of one of the greatest movements of Black artistic expression–the Harlem Renaissance–is also home to a new generation of provocateurs, with the current exhibition of eMerge: Danny Simmons & Artists on the Cusp, held at the Strivers Gardens Gallery on the East side.
The purpose of eMerge? To refocus attention on the work of developing artists and spark interest in art collecting. As with the name Danny Simmons attached to the project (he's the brother of hip-hop mogul Russell and an acclaimed artist himself), eMerge especially seeks to reach out to a local community of art lovers who may feel out of place with its seemingly elitist background.
Young people are often in touch with art only through precedent figures like Picasso and da Vinci from school. And then there's pop culture's growing fascination with the downtown kids of yesterday like Keith Haring and Jean-Michel Basquiat (the latter receiving some lyrical love on last year's Watch the Throne). Co-curator of the event and burgeoning arts and entertainment guru Souleo, of his entrepreneurial Souleo Enterprise, LLC, commented on the detachment of the general public to the gilded but always provoking aura of the art world. "Emerging artists…they deserve attention. They are the future of the culture. We've got to look at those that are on the cusp," says Souleo. "I'm looking to build an audience for art in Harlem, as Harlem has always been a part of the arts. Today, the media is raising our children and art is for the people by the people. [We're here] to remind people of its value and I want to have a platform for young people."
The eMerge exhibition currently showcases 11 artists and their selective achievements on the hallways of Strivers. Besides their own individualism, they also share a longing to make a difference, challenge the norm and instigate emotions. Each item seemed to harken the past for inspiration, whether in historical, political, business or music.
Every piece displayed was wonderfully thoughtful, and there were distinguished artworks from David Hollier, Glenn Wright, Andre Woolery, Beau McCall, Greg Frederick, and Laura Gadson. Hollier's Greenpoint Sky was a water-colored close-up of a residential building in Brooklyn with the names of a good hundred different, renowned corporate names embossed in white ink against a light blue sky (a possible commentary on gentrification and oversaturated licensing). Wright's three-photograph set of a Day in the Life of a Down Syndrome featuring a disabled youth advocating his misunderstood solitude. Woolery's jewel-toned thumbtack spectacular portraits of Jay-Z and Jimi Hendrix (that collectively took 10,633 tacks costing a $1 each); Gadson's ode to environmentalism and the beginning of the golden age of hip-hop on her mini quilts with Our Lady of the Sacred R's: Recycle, Re-use, Re-Purpose and Old School Hip-Hop (subsuming an elvish image of legend Kurtis Blow). McCall's spiritually buttoned tribute to the African diaspora on Until We're Free. And Frederick's whimsical usage of broken vinyl records in actualizing the images of The Notorious B.I.G. and Andy Warhol.
Each artist used customary appliances to create his/her art, giving further dialogue to the idea of something that is common still being able to transpire into something extraordinary. Meticulous detail was given to every tool used; nothing was placed frivolously. McCall's addition of small skeleton and anchor buttons, placed sporadically on his re-interpretation of the American flag transpored by the Pan-African flag, is in memory of the men, women, and children that didn't make it alive to North America on the slave ship from Africa. In preparation of his project, McCall felt enlightened by the wise words of the late scholar W.E.B. DuBois' for his affectionately nicknamed "baby" artwork, as it is his first foray into gallery art. Until We're Free took him four months to complete. Gadson's cut and paste method of using various disposable plastic bags from stores across Manhattan like Strawberries and Duane Reade in Our Lady showed the massive importance and message of affected consumerism and salvage.
After an hour of meeting and greeting with the artists, a panel was held with four prominent women of the visual arts: Co-curator Lisa Hayes, art advisory agent Amy Kisch, owner and director of the Causey Contemporary gallery Tracy Causey-Jeffrey, and arts management specialist Debra Vanderburg-Spencer. The women discussed the connotation and importance of art history and collecting (even in the middle of a somewhat middling recession, as Souleo called it "artist on a layaway plan"), and they offered much valuable consultation for emerging artists in the room that have done the hard work in making the art and now there's the proposition of getting their pieces shown and ultimately sold. Being an art collector can be beneficial for buyers, curators, and artists alike for its overall financial stability and academic/cultural discernment, but there's also the unspoken, cutthroat pitfalls of handling such treasured items AKA falling victim to a scam or exclusive deals that are not as special and care-taking as they seem, which the panel immediately touched on. A great catechism that arrived during the conversation was elicited by Kisch who recalled while mentoring many artists in asking them how and what defines success: "Being successful–what does that mean to you? An artist should ask themselves that. Are you looking to add to the dialogue, or are you just [wanting to be] displayed and shown at every major art event or show?" Causey-Jeffrey added to Kisch's sentiment and exclaimed that in order for the average gallery owner or curator to expose your work, the art should touch them in some sort of way: "Without that feeling, I can't do that artist justice." As the panel spoke like ladies who lunch with a masterly point of view, the audience listened intently with heads nodding steadily.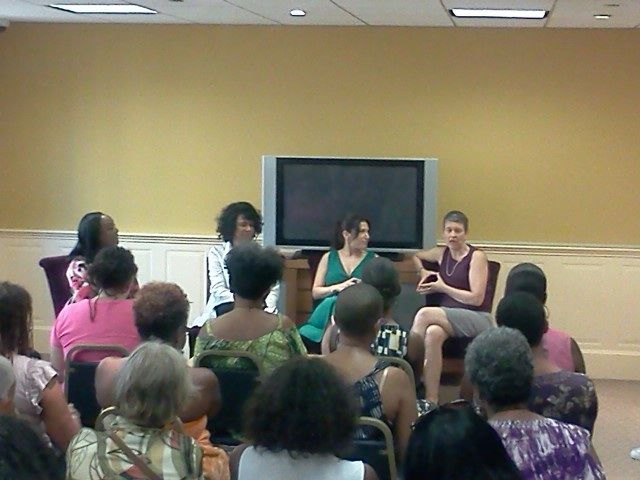 eMerge: Danny Simmons & Artists on the Cusp is a marvelously humble exploration of the new dawn of contemporary art. Along with the panel, it was a mixture of venerable, tried and true advice, with the hopeful and confident inclusion of today's voices aiming to be as advanced in their skills and inspirational in their legacy in the coming years. Even those in attendance were a gumbo of seasoned collectors and simply interested patrons looking to get reconnected with their inner art geek. Hayes, Souleo, and all involved achieved the task of making visitors feel welcomed on their territory, which felt more like an inclusive get together in the name of meaningful art. As Souleo concluded: "Art is everywhere. Whether it's how one displays their clothes. Like even how your mother cooks a meal. Art is all around us."
And art is for everyone. The exhibition is on free-standing display until September 7, 2012.