We're not sure whether this is real or not but we were tweeted the link to what is allegedly Slim Thug's Craiglist ad where he's trying to get free love (presumably from the heaux variety). See below: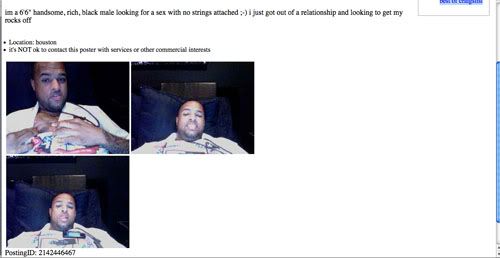 For those who can't read it, the headline says "Looking for a good time!!!!! – m4ww – 30 (houston)" and the intro sentence is, "im a 6'6″ handsome, rich black male looking for a sex with no strings attached 😉 i just got out of a relationship and looking to get my rocks off."
Something about the language used ("looking to get my rocks off") and the fact that there's a winky face inserted haven't sold us entirely that it was genuinely posted by Slim Thug. Then again, we checked his Twitter and he had this to say:
However, Thugga is known to be a joker so he could be pulling our strings. We reached out to sources at his label who couldn't confirm nor deny whether it was him or not. We were told via iChat, "i have no idea, i kind of think it would only be up there if he did it as a joke…[but] i can see him doing that," followed by several "lols," but they are still working to verify this information. We'll keep you posted.
In the event that you're a hot mama looking for sex with no strings attached with a rich black man (*Paging @CandyDeepThroat*) and want to see for yourself whether this is real or not, click here for the actual ad (we hope for your sake, that you look like a video model). [Props to DLYDJ for the tip.]