Apparently there's a group of people on the other side of the hemisphere who really dislike Lady Gaga.
The Associated Press released photos that allegedly depict a South Korean Christian group praying that Lady Gaga's concert in Seoul is canceled. The group feels that her hit "Just Dance" is inappropriate for public consumption. The concert, to be held April 27th, has already banned children under the age of 18 from attending.
The initial age restriction was supposed to be suitable for anyone over the age of 12, but the Korean Media Rating Board increased the age of entry. Some believe that the show should be banned so that "homosexuality and pornography will not spread around the country.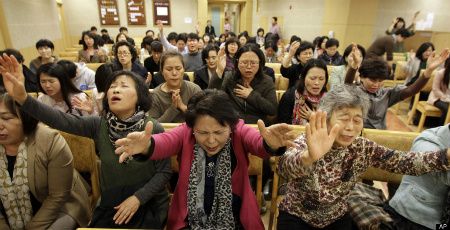 In reality Lady Gaga actually stands for individual empowerment so it's quite ironic that the South Koreans would feel this way. Gaga is launching her 21-show Born This Way Global Tour in Seoul and will then travel to other select Asian cities.