If this move made by Hollywood currently baffles you, don't worry, we aren't sure what to make of this move either.
Yesterday (8/26), the wildly popular actor Vin Diesel was honored in a ceremony on the famed Hollywood Boulevard amidst friends, family and fans. The 46-year-old star, who first burst on the radar in 1999's The Iron Giant, became the 2,504th star to be inducted onto the Walk of Fame.
Joined by his Fast and Furious co-stars Michelle Rodriguez and Jordana Brewster, the former was quoted giving praise to her racing co-star, saying, "I love Vin Diesel. On top of just being one of my best friends… this man dares to dream when people forget to dream. This guy, he looks at the impossible and says, 'When do we start?'"
Take a look at his star on the Walk of Fame below: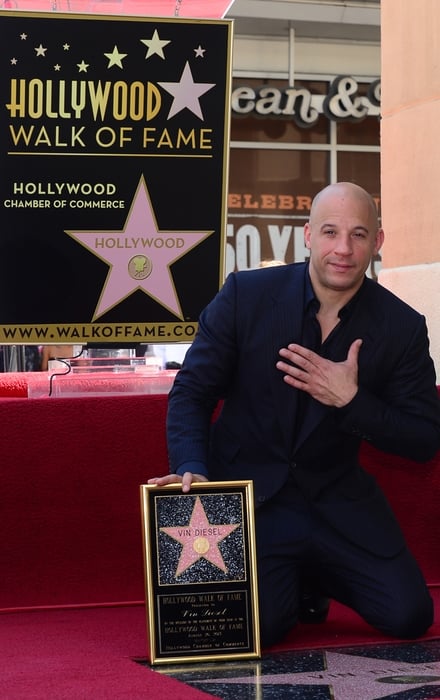 Another seemingly "impossible" journey is his inclusion in the space age Marvel adventure, Guardians of the Galaxy, directed by James Gunn. The voice actor will play the role of Groot, a tree-like alien who joins a team of aliens to fight against a cosmic enemy. In addition to that, fans can see the badass in the upcoming films The Last Witch Hunter and Fast and Furious 7, which just added Tony Jaa in an unlisted role.
If you cannot wait to feast your eyes on the New York City actor, Diesel will next be seen in Riddick, alongside Keri Hilson, which will be the third installment of the popular The Chronicles of Riddick sci-fi franchise. You can see the new trailer below.
//www.youtube.com/embed/tE0RAXHgfnA
Riddick will be landing in theaters next week on September 4th.