The Miami-Dade Fire Department is investigating the Facebook post of its captain Brian Beckmann who blames the Trayvon Martin shooting on "failed, shitbag parents."
TheGrio took a screenshot of the status from Beckmann's personal Facebook page. Apparently he posted the status last Wednesday, the same day prosecutor Angela Corey announced her decision to press charges against George Zimmerman.
The status read as follows: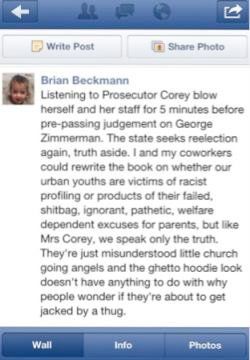 Beckmann responded to questions about his status stating, "I am a private citizen and have the same right to freely express an opinion on any subject that anyone else does. I choose not to embellish or alter the facts as your employer chose to do."
As a firefighter the status comes off as a bit threatning, especially since this case has been at the forefront of all media coverage since February. Beckmann's post in under investigation.