Tory Lanez's lawyer, Jose Baez, has now suggested that "mistaken eyewitness identifications" is what led to his client's guilty conviction in the 2019 shooting case of Megan Thee Stallion.
In a series of Instagram Stories on Thursday (May 4), Baez cited data from the Innocence Project showing the high percentage of unreliable eyewitnesses involved in wrongful convictions, and how many cases have been overturned due to post-conviction DNA evidence.
"Mistaken eyewitness identifications contributed to approximately 69% of the more than 375 wrongful convictions in the United States overturned by post-conviction DNA evidence," Baez wrote.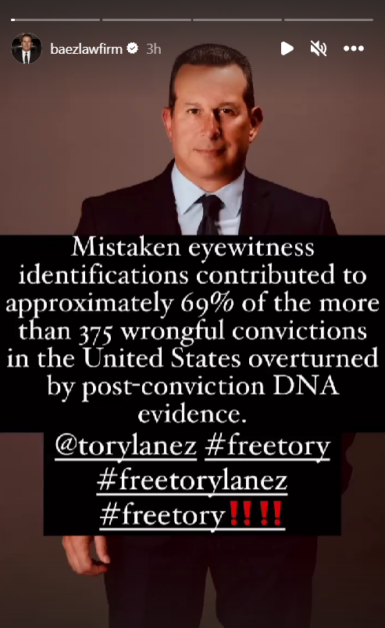 Baez then followed up with two screenshots of eyewitness statements from Lanez's case in which he pointed out "mistaken witness identification." The rapper/singer was found guilty earlier this year and has remained behind bars since.
In Version 1 of the eyewitness identification, the witness claimed to have seen "one of the girls shoot" after a fight erupted between Tory, Megan and her friend at the time, Kelsey Harris. The witness then admitted to seeing "the shorter guy" trying to take the gun away.
In Version 2, the witness changed his answer a bit, saying that the incident was quick and he saw Tory "shouting" but he "never saw a gun," only "flashes [coming] from him."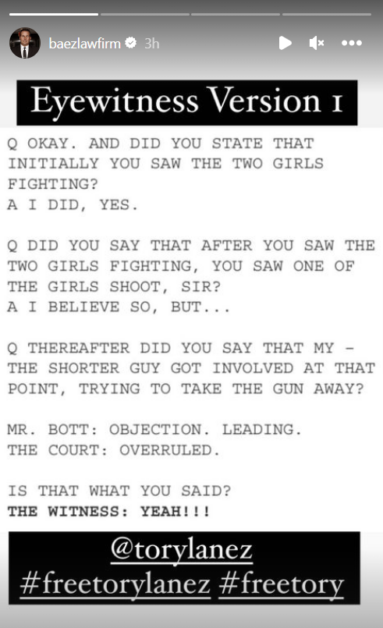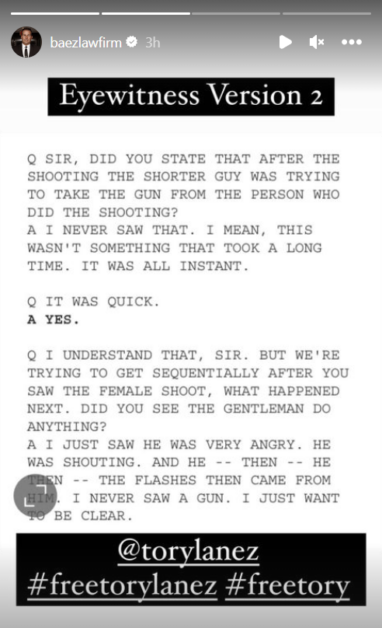 The Sorry 4 What artist was found guilty of assault with a semiautomatic firearm, discharging a firearm with gross negligence and carrying a loaded, unregistered firearm in a vehicle. He now faces up to 22 years and eight months in prison.
Sentencing for the Canadian star has been delayed twice, as his legal team has changed. He now awaits a judge's ruling on his motion for a new trial, which is scheduled to be heard on May 8.
Tory Lanez maintains his innocence even after conviction. In April, Lanez stated that he's been "robbed and deprived of a fair trial" and accused prosecutors of suppressing exculpatory evidence that could exonerate him.
See Jose Baez thoughts above.